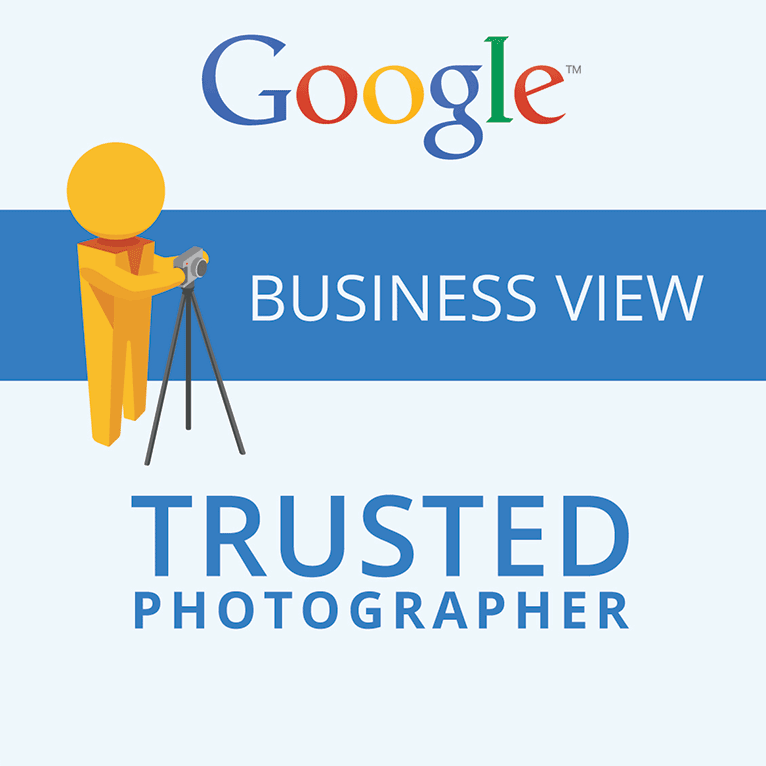 20 Aug

You need Google Street View; Here's Why
If you're considering adding content for brand marketing and advertising, there are some sound reasons to consider a Google virtual tour.
The virtual map of the world is growing faster than ever. The technology to virtually visit places on the earth, now fits in our pockets and is free from Google. How people search, discover, and engage online is becoming intertwined with virtual reality technology.  Here's how it can work to your benefit.
First, let's quickly answer, for those that don't know – What is a Google Virtual Tour exactly?
A Google virtual tour is a simulation of an existing location, usually composed of a sequence of images by a Street View Trusted pro or agency.
7 Reasons your business needs a Google Virtual Tour
#1 – Increased quality content for your listing improves interaction
A well optimized listing means one filled with content beyond just the business name and basic info. The more high-quality professional content and interaction the better for your ranking and engagement outlook.
On your GMB listing you have several ways to add content like :
Your website – add your link so people can get there in one click
Posts – similar to social media updates and offers
Photos – interior and exterior + identity, at work or team
Customer Reviews – you can respond to Google reviews adding a layer of interaction and transparency.
Vide0
360 Photos – or a Street View Trusted Google Virtual Tour
Let's pretend for a second you have a restaurant and you want to make sure your customers are able to find you on Google.
You would definitely want some great photos of your storefront, food and the inside of the dining area atmosphere.  But if you had the 360 virtual tour as well, the attraction, interaction and time spent could all DOUBLE.  People WILL spend time walking around your place virtually versus just skimming over still pictures and details. The difference is that it gives a real look at a your business and well, honestly it's just kinda fun to do!
As your prospects tour your restaurant business virtually, the views are interpreted by google as positive organic interaction with your listing.  This helps with higher ranking on Google.  So, doubling-down on the type of photo content you are allowed on Google should be a no-brainer.
#2 – Shows instantly what can be hard to describe
So, your location has beautiful fixtures, great art and amazing wall treatments with plenty of warm space.  How do you describe that instantly without saying a word? – With a 360 photos of course!
The Google virtual tour will allow your customer to instantly experience the atmosphere and feel of your location with their own eyes. A trick that makes their brain feel like they've already been there.
They can walk around to different sections of the venue and quickly decide to visit. Professionally produced tours are done in such high quality format that you can zoom in and see everything they need to get a clear idea of what a business is all about.
#3 – Up-to-date Street View of your storefront allows customers to find you easily after being picked on Google and Google Maps
For example, we've seen a street view picture on a business' listing that was taken by the Google Maps car before the building was even built. When a customer looked at it on Google Maps to get there, it was only a photo showing an empty patch of land.
This can be confusing to a valuable prospect trying to identify your business. Also, if you are in a location where you took over a prior used location, chances are that the Google street car passed by when that company was set up and not your company. Showing their signage or even flaws that you may have fixed or changed or completely renovated over.
#4 – New way to attract and interact with your customers
Virtual reality may become a tangible force in our daily lives. More and more the virtual world is being developed to help us do all kinds of things – travel, education, even medical technology.
Google and Facebook are pouring billions of dollars into development of hardware and applications to prepare for the next generationof user demands.  The future holds many uses for virtual reality but one available right now is as a tool specifically to engage with customers.
A Google virtual tour of your business will allow your customers to experience your location.  Most smartphones today will allow you to see virtual images without using special glasses or a virtual reality headset.  Any customer with a smartphone can interact with your space easily.  This gets them to interact with listing in a way that wasn't available before.
#6 – Your Google Virtual Tour can be used in other places
A Google Virtual Tour of your business can be embedded and shared in other places outside Google as well.
You can add it to your website easily just like a YouTube video.  Just copy and paste the embed code into a website block and it will appear in just about any context you'd like.
Some businesses like to use different parts of the tour on different pages. Like an events facility showing off a private hall on a page about private events.  Or an apartment complex showing of the gym and pool on a page about the amenities.
It can also be posted on social media that has 360 support, like Facebook.  As we all know social media is a great way to stay in touch with people interested in the products and services. Use 360 content as a way to get them into your store virtually and then physically.
Another tip if you have an email list, you can re-engage with your past clients by sending a link to your new virtual tour.
#7 – It lasts forever- if you want
Google will host it indefinitely and it will remain on Google until you delete it! The cost of photography and production is relatively inexpensive and would be a one time fee to get processed and published to Google–then it lives there forever. You can't beat a deal like that, when most virtual tour sites have hosting fees to keep your website online.
These are just a few ways to optimize your Google My Business listing in order to get you ranked higher on Google.These tours can be vital to getting traffic to your business online and are recommended highly by Google themselves.
Virtual Tour created by AlbWeb for Pajtoni Center.